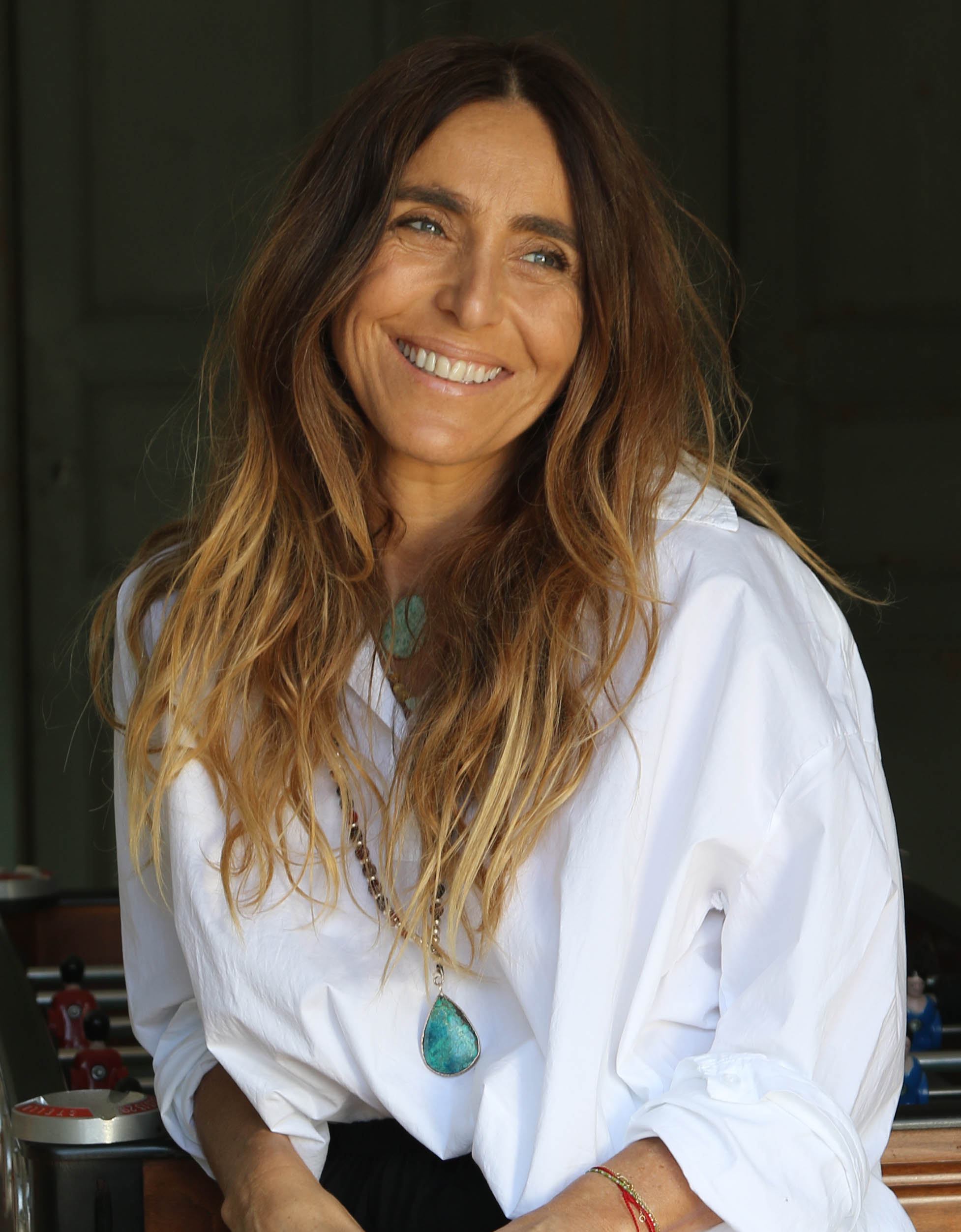 WHO IS CLARISSE VIROT?
For starters, the Claris Virot project started off by instinct. At the time, Clarisse Virot had just turned forty-years-old, with multiple careers down the line. She is the mother of two children,happens to be an experienced skier, and an inveterate traveler but above all she is a fashion enthusiast who has always known how to find what no one else had anywhere in the world. Sometimes, if she couldn't find it a piece she desired, she would have it done.
After many summers spent in Bali hanging out in the streets, where she had no problem leaving her husband, friends and children on the beach in favor to meeting people and finding local artisans, she decided to create her ideal bag that she first made with bright yellow python. The very night she got a hold of her just-made purse, one of her friends was immediately seduced by her talent and thought about the many possibilities python skin could be used for. He offered her the opportunity to create a company and, fast forward one year later, the first collection of the newly created brand Claris Virot was coming out of the Bali workshops. Amongst them: the Charly that has now become the best-seller of the brand, echoing her daughter's first name.
CLARIS VIROT: THE BRAND
When the brand was first launched in 2014, Claris Virot's first collections were exclusively made of python for the simple reason that this material was only used by luxury brands. The main idea was to desacralize the use of python by offering a range of products with interesting and more competitive prices than those applied by institutional houses while keeping an irreproachable quality. The advantage of python is that it can be processed in different ways: printed, plain or hand painted using natural pigments for colors with an extremely wide range of shades. Later on, equally noble skins such as lizard or crocodile became part of the collection, as did suede or leather used in for details and finishes of the pieces.
The Claris Virot brand puts a lot of efforts in offering a wide range of skins within her existing and newest collections. Last summer, she introduced the basket and this autumn, she unveiled the new 100% leather line. Tanned, grained, smooth or tie and dye: the leather that she uses in all of her references, is handcrafted in the Balinese workshops. Since the creation of the brand 5 years ago, Clarisse made a point of honor to exclusively develop her products with a local partner and artisans who manufacture for her brand. That way, she is complete control of her production process – handling from A to Z the productions of the skins all the way to the bag chain.
Her creative process is purely instinctive: not only she creates what she wants, but she creates what she feels lack on the market. Since the opening of her first showroom in the heart of the 16th arrondissement in Paris, Clarisse has been in close contact with her customers. As an established brand, Claris Virot has now its bestsellers like the Charly bag. Its signature is in the suppleness and the quality of the python in addition to the skin colors that patinate from year to year.
For Clarisse Virot, color is above all a synonym of spontaneity and cheerfulness. Claris Virotis an energetic brand using color as a signature following trends, fashion and the desires of her customers. It is an everyday brand! "From midday to midnight" her clients happily remind her. It is a brand that has been identified as cheerful and fashionable yet at affordable prices and has been able to counter the offer of many major brand designers' bags.
WHO IS THE CLARIS VIROT WOMAN?
It is difficult to define the typical profile of the Claris Virot woman when we know that itaffects all three generations. As a matter of fact, it has been more an observation beyond a wish. The Claris Virot woman can be identified as the active 40-year-old woman who supports her own self with a job including high-responsibilities and is looking for a stylish bag, comfortable and not too heavy. It also applies to the modern and dynamic woman who does not necessarily have the means to buy a bag from an institutional branded designer and will find her happiness amongst the selection of bags, tote bags, pouches or even baskets that Claris Virot offers in its selection.
For the avid shopper who collects all the classic, iconic and ever-sought models from majorbig brands, she will be able to buy a Claris Virot in all colors. There is also the 18-year-old girl who wants a first pretty bag that is both trendy and timeless, and also her grandmother who would like something classic but not old-fashioned. In other words, the feminine Claris Virot icon happens to be the trendy Parisian that Americans would describe as effortlessly chic!-